Cinnamon Just Makes Everything Better (Cinnamon Rolls)
So I thoroughly enjoyed making the brioche dough on Thursday, sticky stuff that it was. If you remember back to that post, I had to transfer the dough into a bigger bowl since after 45 minutes in the refrigerator, it breached the containment capabilities of my bowl.
Here is what it looked like on Friday morning when I got it out of the fridge: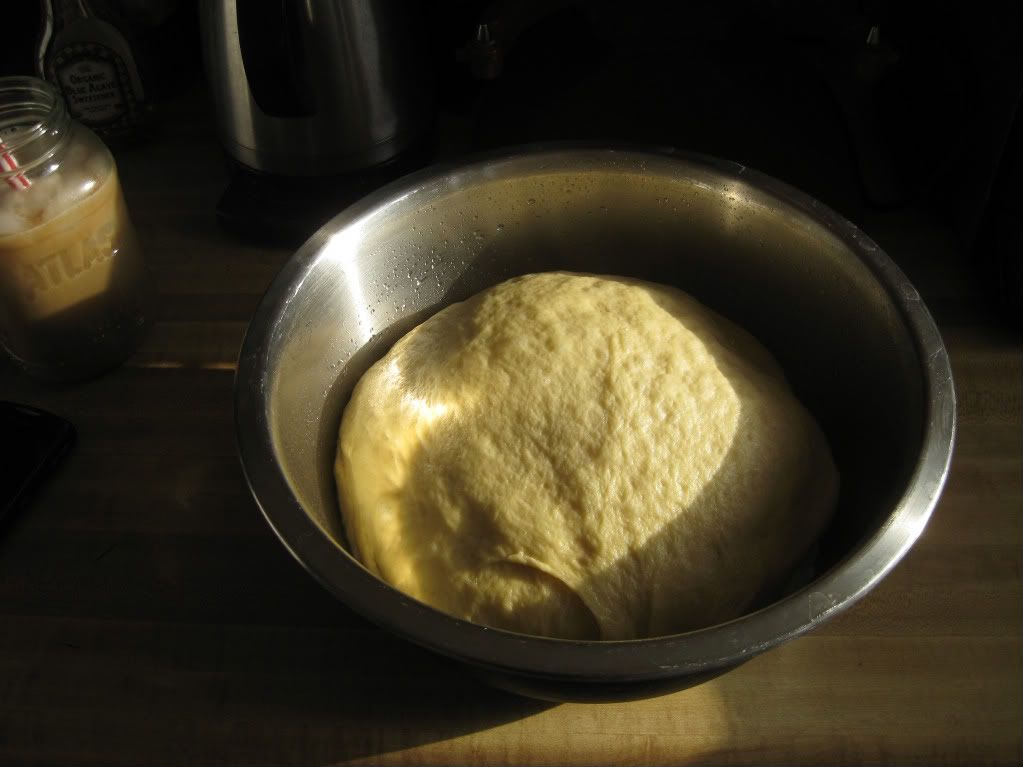 It managed to stay contained in the bowl thankfully.
Now we will bring this magnificent dough up a level. We are making cinnamon rolls.
First we flour the surface that we will be rolling our dough out on.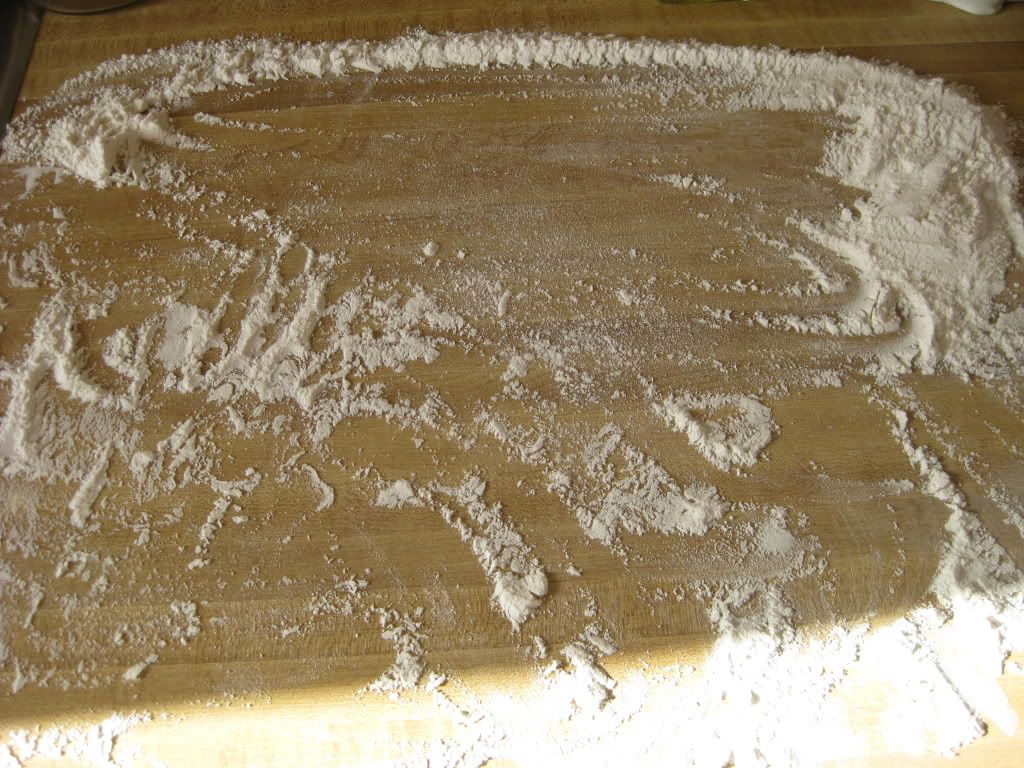 I am just using all-purpose flour for this purpose.
Next divie your dough in half, then roll out one of your pieces of dough to about 10″x16″. I am not the world's best roller-outer…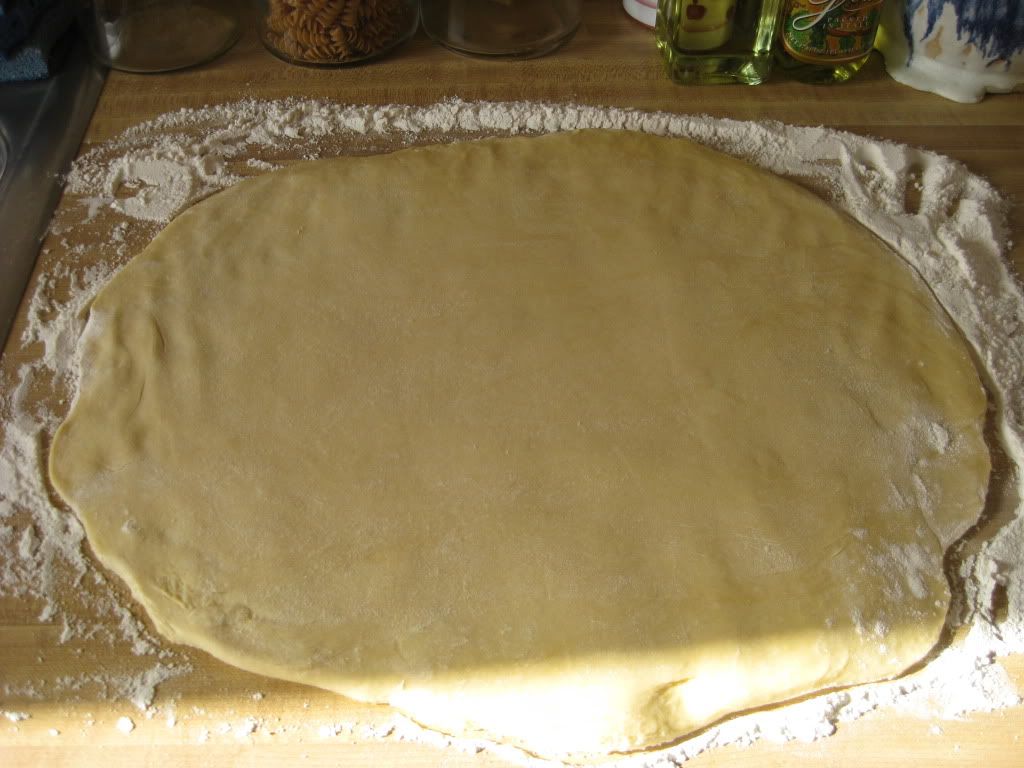 If you want to be exacting, (and believe me, you have my blessing.) you can trim the dough and make it perfectly even. I did not care, so I left it in it's organic state and plowed onto the next step. Which is smearing the whole piece of rolled out dough with soft, room temperature butter or non-dairy spread of your choice.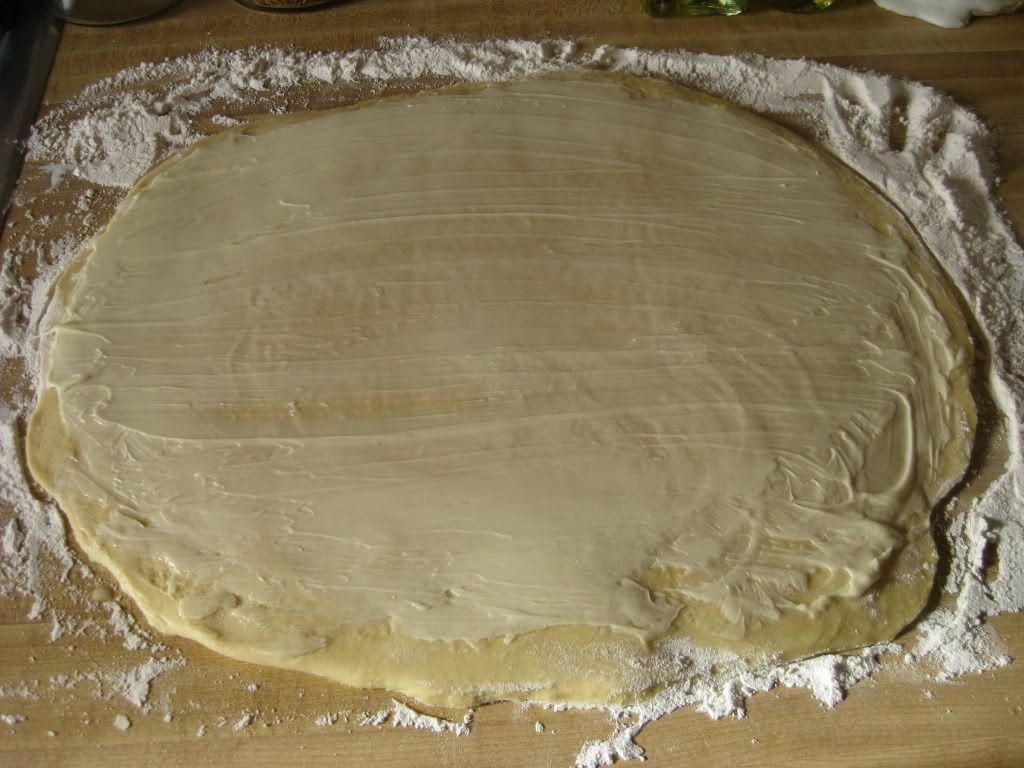 The recipe I was using said to use 1/4 cup of butter for the whole recipe… but I've watched them make cinnamon rolls at Cinnabon… they use FAR more than that, so I decided that Paula Deen and Ina Garten (Barefoot Contessa) can't be wrong and used 1/2 a cup.  They're cinnamon rolls, not spa food so don't judge me.
Next we need to make the filling. Since this was my maiden cinnamon roll voyage, I decided to keep these pure and left out the raisins and chopped nuts that would been nummy. I just mixed the cinnamon and sugar together and then sprinkled all of it evenly across the dough.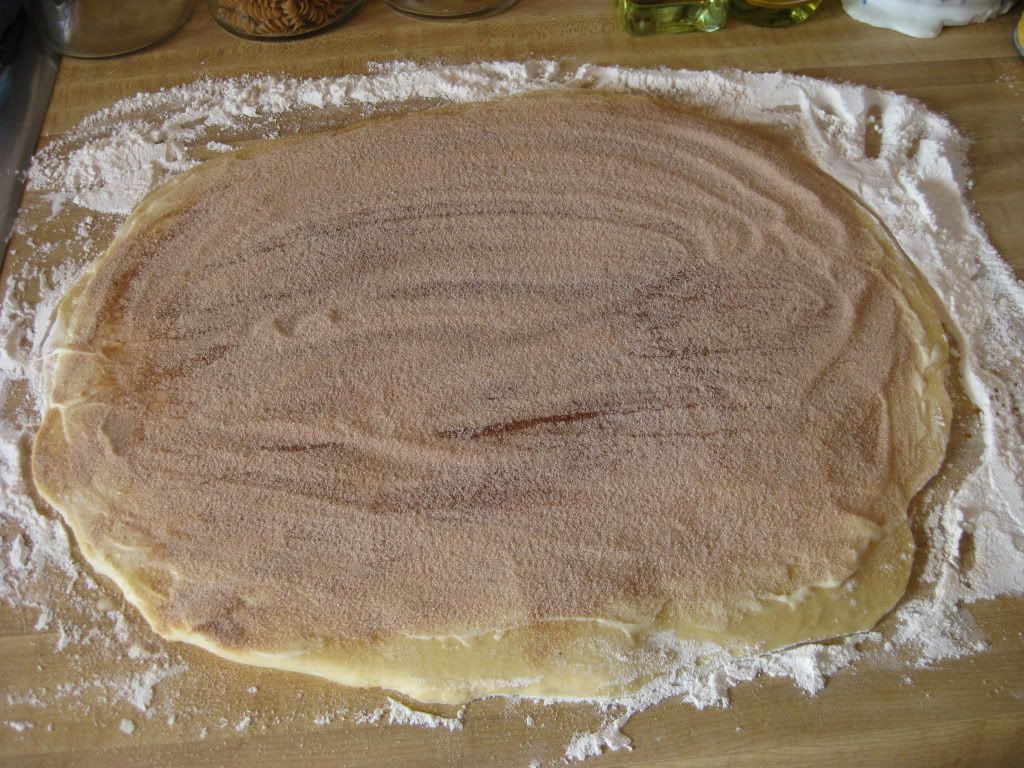 Now make sure you get it all over… and don't be afraid to get your hands in there… smear it around gently, but thoroughly.
Now again, this was my first time making these, since it was early in the morning, I had not consumed enough coffee to be effective, I missed the part of the instructions where it said to roll the dough towards you.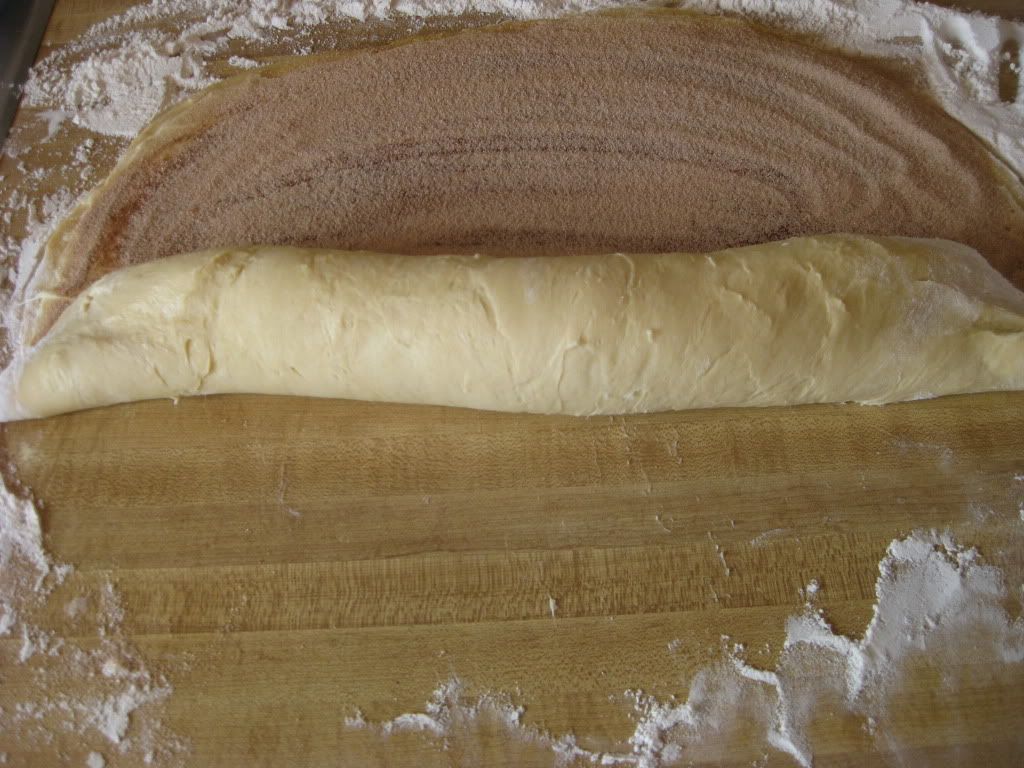 But that's okay. When I was done rolling it, I just turned it around and tightened the roll a bit.
Next we cut out our rolls: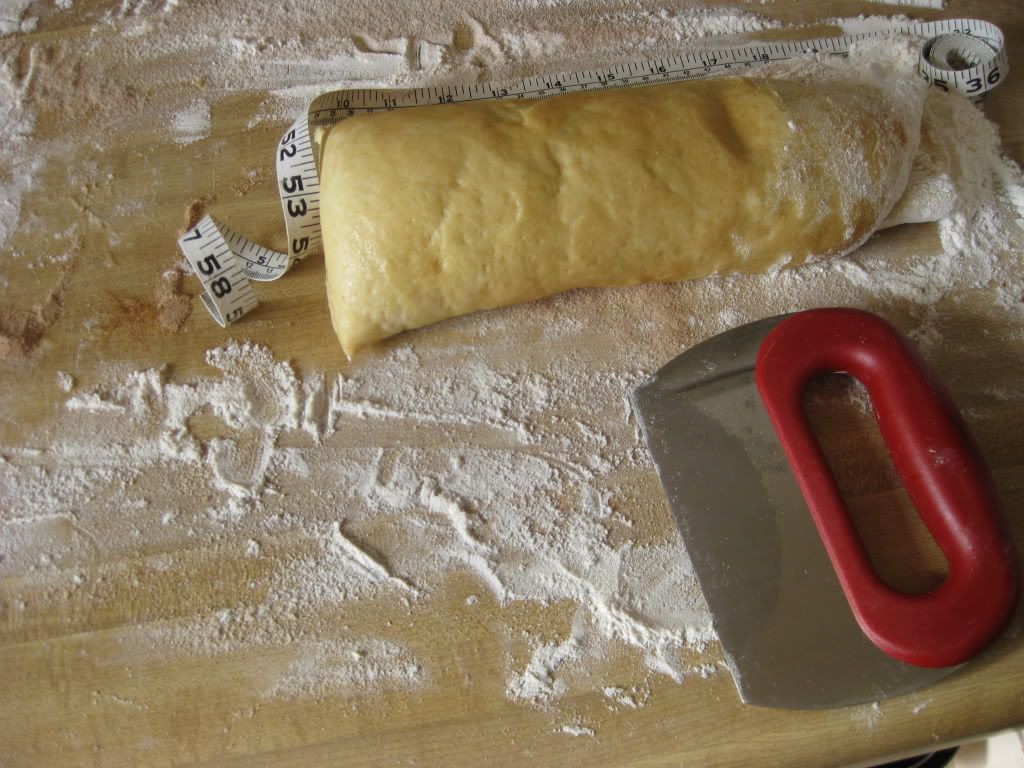 You want to cut them 2 inches wide and place them on a baking sheet with parchment paper. I don't have any, and my stone ware sheet pans are WELL seasoned, so I figured I would be okay… and for the most part they were, but next time I might wander of the the baking aisle at Target and pick some up. It's reasonably priced there. This dough is VERY sticky, and we just added sugar and butter, so it's only going to get stickier.
The fluffy middle is my favorite part of a cinnamon roll, so I placed my rolls really close together on the baking sheet. If you like yours crispier, let them have their space.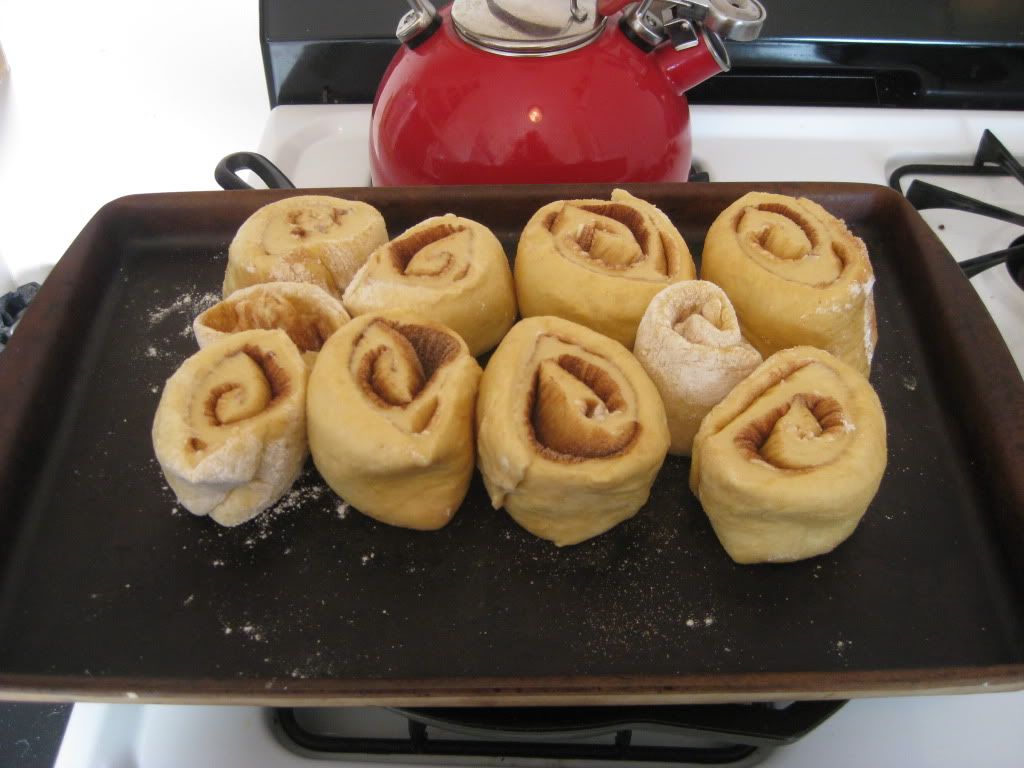 Now repeat with your remaining dough. You should have two trays of 8 cinnamon rolls each.
Now we need to let these babies rest covered in a warmish, draft free place for the second rise. If you want, you can keep them in the fridge over night and then bake when you wake up in the morning. I put mine the oven with a bowl of boiling water. It works EVERY time.
After resting, the official instructions say to brush these with egg wash. (a raw egg scrambled) I honestly forgot, (remember, i am making these before I consumed my coffee) and I think they turned out fine.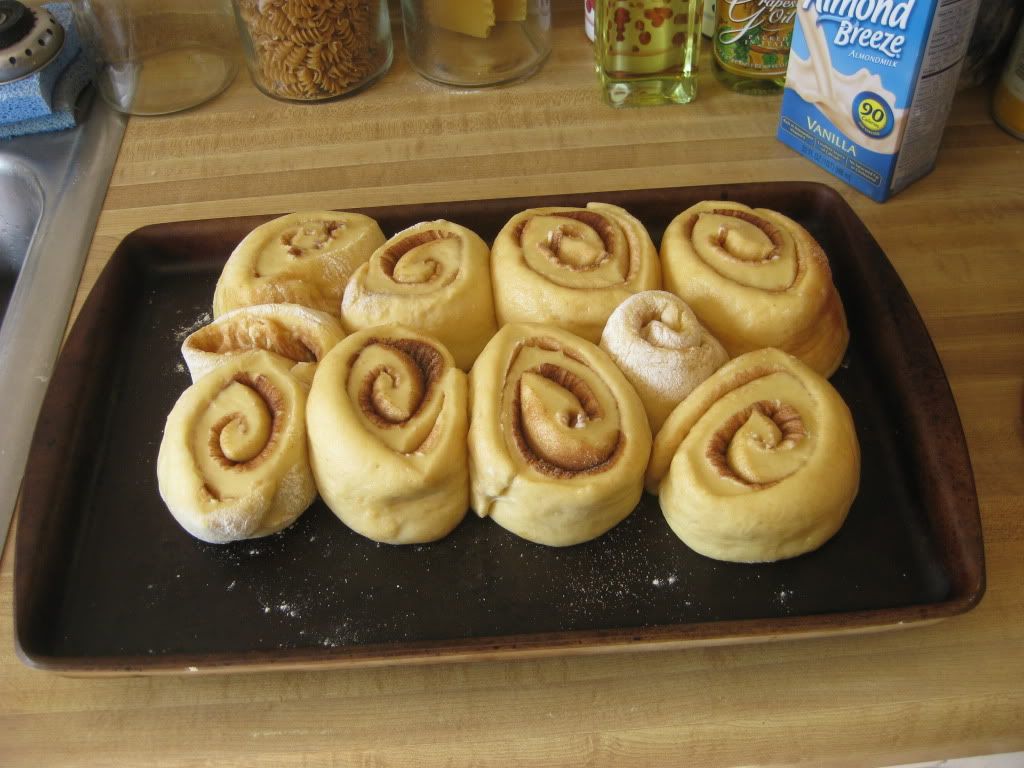 Place them in a pre-heated 400 degree oven for 20-25 minutes.
While those are going, I made the icing. We have issues with dairy, so I decided against the cream cheese icing these are so clearly calling out for. I made a powdered sugar icing with 2 cups of powdered sugar, one teaspoon of good vanilla, 4 TB of dairy free margarine, and about a tablespoon of boiling water.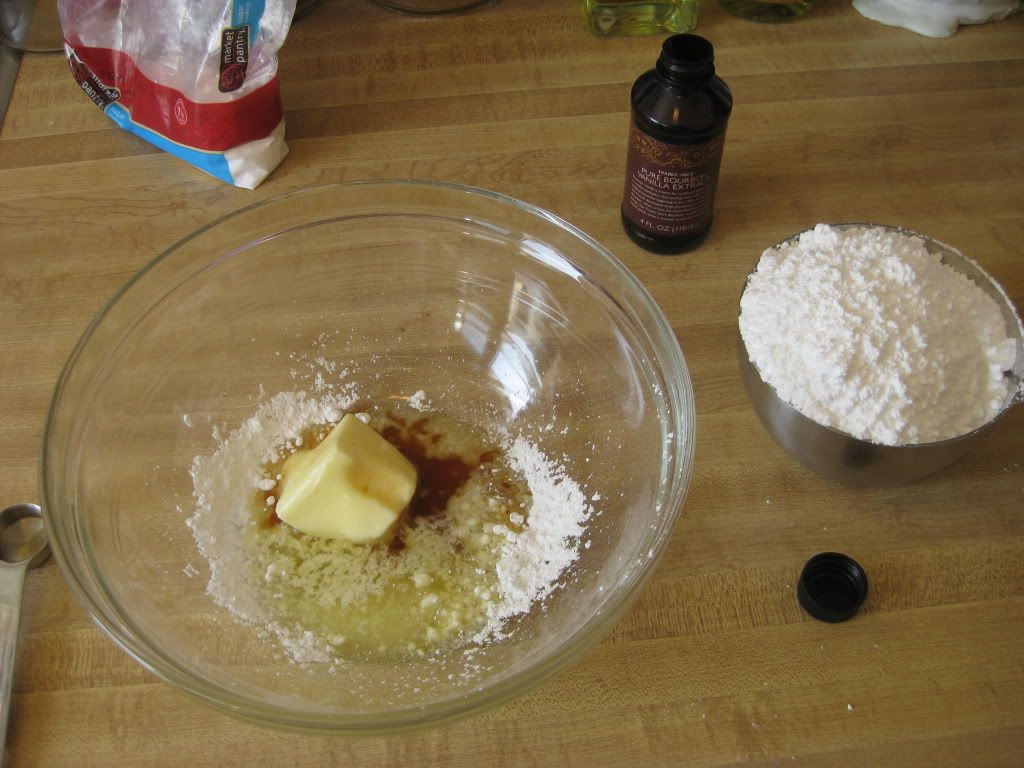 The water is just to get it all to come together nicely.
It should look like this when you are done: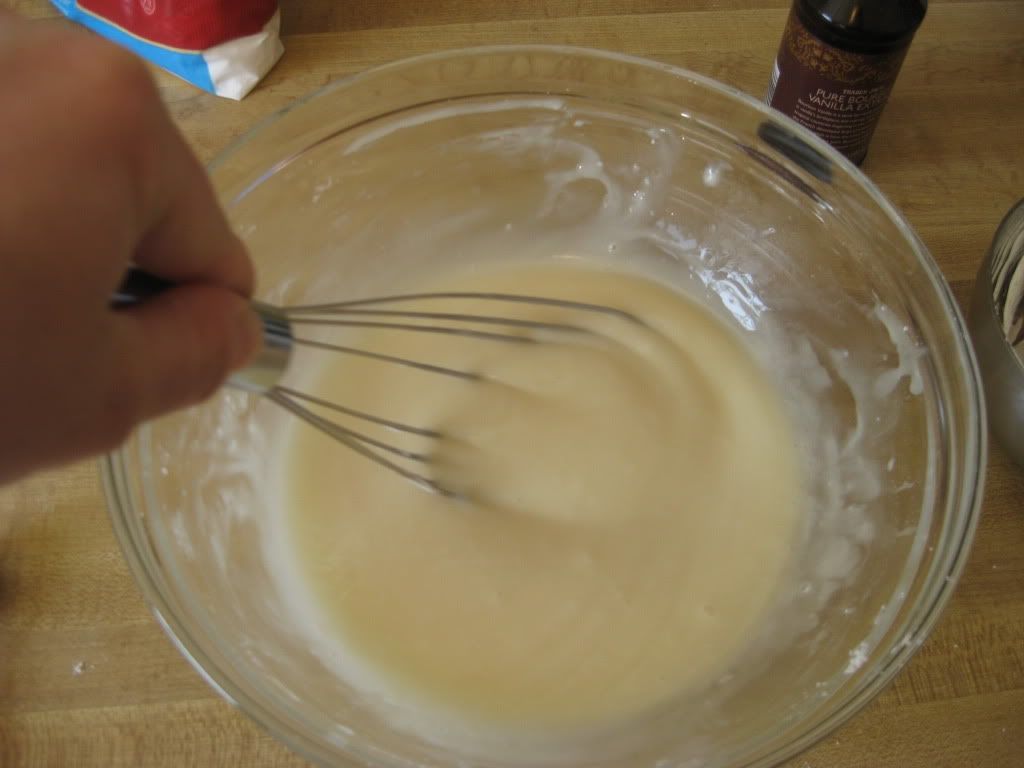 Make sure all the sugar is dissolved. If it's not, add a little more water, and stir until it is.
Now the rolls are done!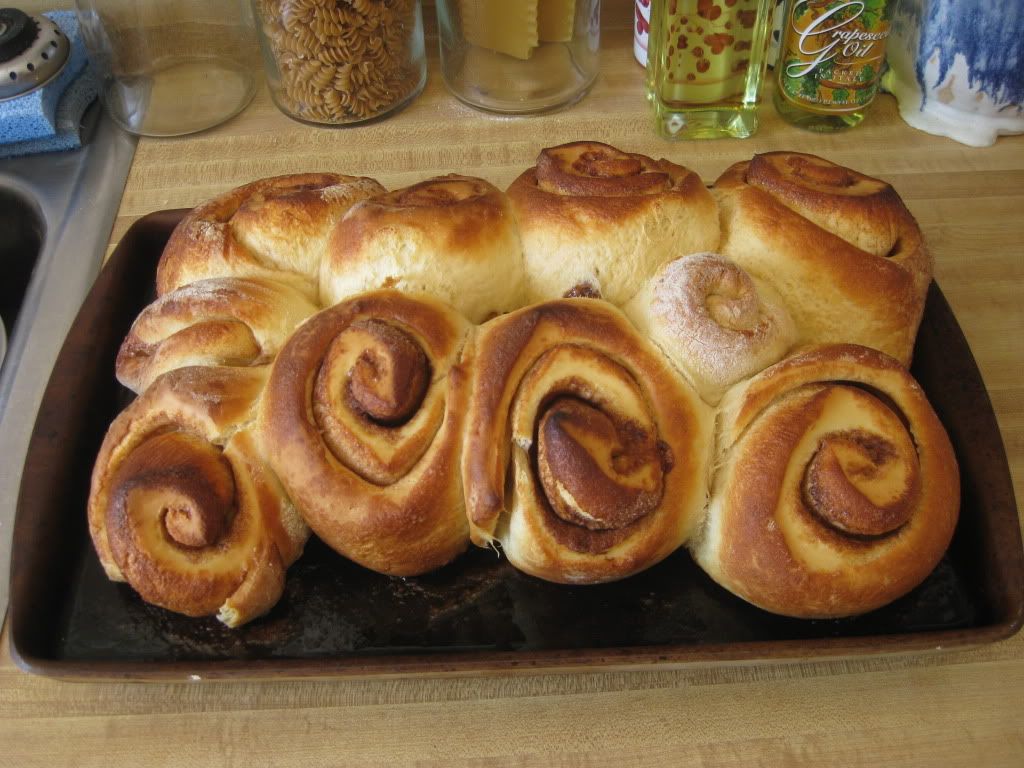 They got LARGE. These are sharing cinnamon rolls. Let them cool for a bit, and then pour the icing over them, so that the heat of the rolls melts the sugar crystals.
and the finished product: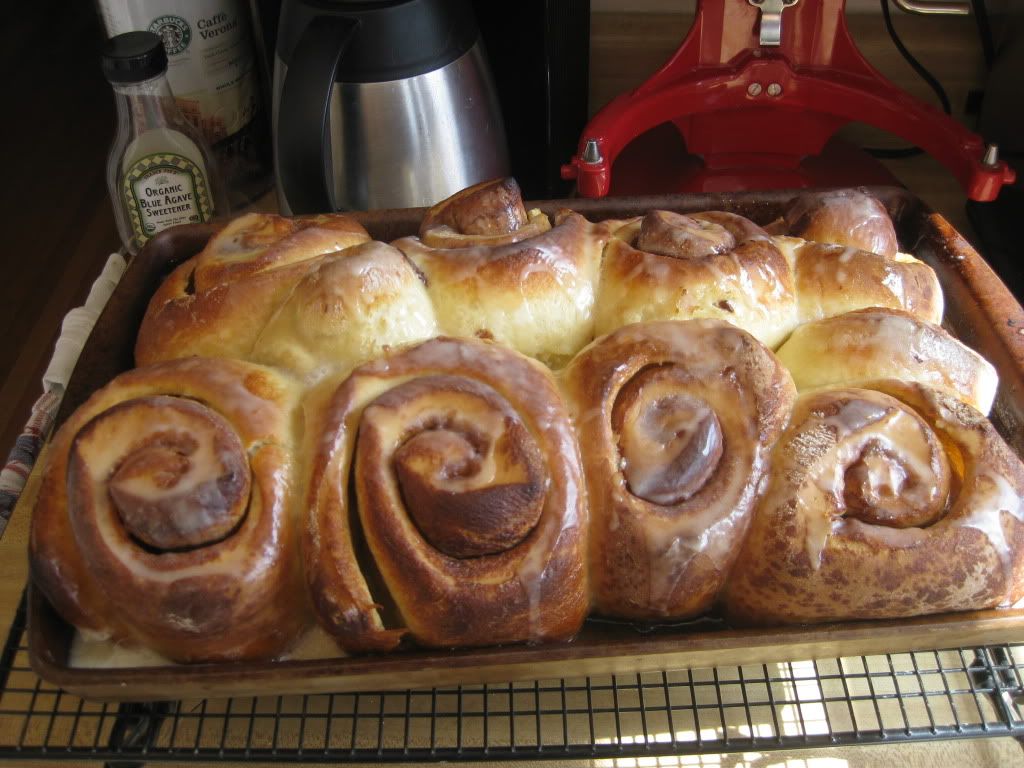 Now that they are done and consumed I have notes for my next making.
DOUBLE the cinnamon sugar mixture inside. These tasted of cinnamon, but as we know Cinnamon makes everything better and we want a more pungent cinnamon flavor.
The icing was decent, but when you have this rich brioche dough, it really cries out for a cream cheese icing…. so next time I will bite the bullet and make them with some. I will make sure I have people over so that I don't eat them all.
The Cast of Ingredients:
Dough:
Brioche Dough recipe from Williams Sonoma Essentials of Baking cookbook
Filling:
6 T of sugar
3 t of cinnamon
1 stick of butter
Smear room temperature button on rolled out dough, and sprinkle with the cinnamon and sugar that you have already mixed.
Icing
2 C powdered sugar
1 t vanilla extract (use the good stuff. I don't know what vanilla flavoring or imitation vanilla is, but it can't be good.)
4 T butter or margarine
boiling water as needed
Stir together ingredients with a wisk and add boiling water to get the consistency you desire for you icing.
These are syper yummy. I LOVE the dough… and the best part besides of course the middle, is when you separate two rolls and then part of it flakes off. I love the flake.
Next Project: Cinnamon Roll French Toast