Brioche Dough
This recipe is from the Williams Sonoma Essentials of Baking cookbook.
2 Packages (5 teaspoons) of active dry yeast
1/4 Cup warm water (105-115 degrees farenheit, 40-60 centigrade)
8 large eggs at room temperature Yes. Eight. (this bread by definition is a rich bread) at room temperature
3 T sugar
4 1/2 Cups of all purpose flour + more as needed
2 t salt
3/4 cup (12 oz/375 grams) or a stick and a half of unsalted butter at room temperature
You need a stand mixer or bread maker to mix this dough. All of the eggs that go into it make this QUITE a sticky and dense dough. If you try to mix this by hand, you are a better person than me and you will be huffing and puffing by the time you are done.
Dissolve the yeast in your mixer bowl with the warm water. Let rest for 5 minutes until foamy. If it does not get foamy at all, your yeast is dead.
This is what it should look like: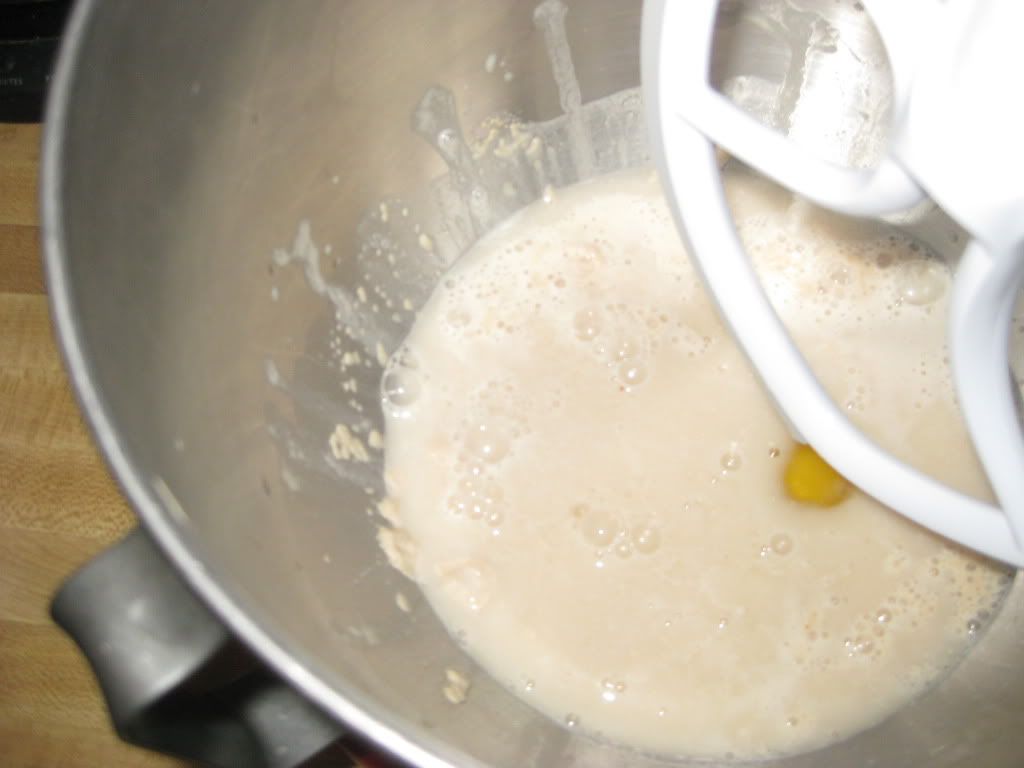 Ignore that egg you see in there… I got ahead of myself when taking these pictures.
Now, the book says to do this next part with the whip attachment…. but I don't fancy trying to liberate this super sticky protein rich dough from the individual wires, so I use my beater paddle for this first part and it all turns out fine.
Using your paddle attachment, add the 8 eggs and sugar to the yeast water.  Once you can no longer identify the individual part of the egg, add the flour and salt. Once your mixer begins to groan, switch to the dough hook and knead on low speed (that's #2, the one above stir on your KitchenAid) until your dough is smooth and elastic, about 5-7 minutes.
You may have to periodically stop your mixer and scrape down the sides of the bowl with a plastic pastry scrapper to ensure that the dough mixes well. I use a clean Pampered Chef nylon pan scraper for this job. So a quick plug. If you don't have a Pampered Chef consultant, may I suggest my friend Rose? She's awesome.
Add the butter and continue kneading up it is completely incorporated, about 5-10 minutes. The dough will be sticky, but you should be able to window pane it.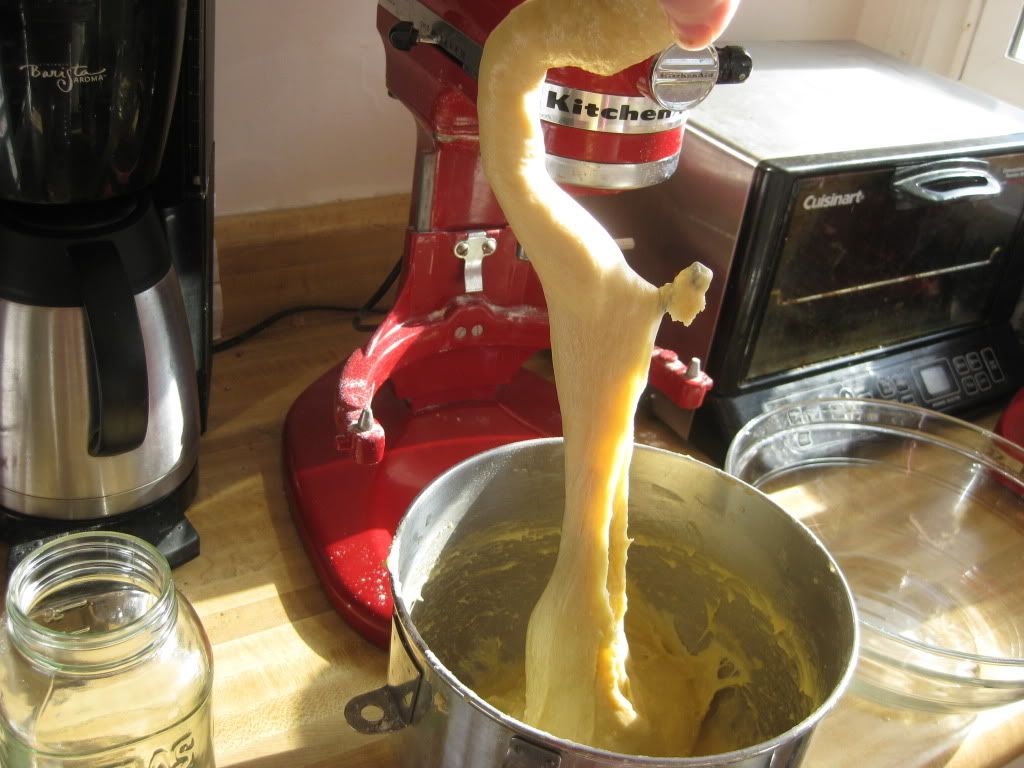 This is what 8 eggs, a stick and half of butter, some yeast and 4 cups of flour look like.
You will once again need your pastry scraper/ pan scraper to scrape the dough into a clean well oiled/ or buttered bowl. Cover the bowl with plastic wrap, (a lesson learned the hard way, make sure you use a VERY large bowl for this, and spray Pam on the side of the plastic wrap on the side that will come in contact with the dough. It's STICKY stuff.) and place in the fridge for 6 hours or overnight. And for the record, in the picture of above, yes, yes that is the ill fated bowl that was not large enough for the job.
While I am at it, Dear Williams Sonoma; It would be awesome if your 10 piece bowl set once again came with a LARGE mixing bowl. My girl friend Maggie got married about a year before I did and the set from her registry did. I registered for the same set and mine did not.
Anyway, now that your rich wonderful bread dough has sat in your fridge overnight, it is ready for wonderful things. I make cinnamon rolls with it because I do not yet have a brioche mold. The cookbook suggests bread pudding (after turning it into bread) or sticky buns.
If you found this helpful or amusing please comment and let me know!