Thanksgiving Meatloaf
Hello my lovely readers! I hope your week is going well. We have had some interesting weather here this week. It's even rained which is far too rare here in Southern California. Rainy, stormy weather means one thing at our house, the arrival of comfort food menus.
Have I mentioned my deep and abiding love that I have for stuffing at Thanksgiving? It's pretty much why I get out of bed Thanksgiving morning… so that I can cook a turkey just to have the lovely golden morsels of stuffing (not dressing) that have crisped up to golden crunchy perfection inside of the bird.
Sadly it's just not feasible to prepare Thanksgiving dinner every week, so I devised a meatloaf recipe that brings in the smells and flavors of a Thanksgiving dinner without the threat of a turkey grease fire and that hour long nap you require after eating the best meal of the year.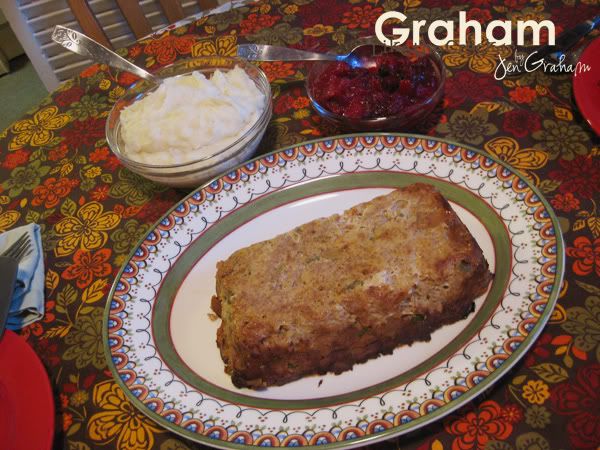 I think it should be mentioned, that making meatloaf look glamorous in a home photo shoot is not the easiest thing to do… if I'd had some Italian Parsley I could have prettied it up, but hey, this is a budget blog people… trust me when I say the meatloaf is yummy even if it doesn't look photo ready.
This is another one of my recipes that I had published on AllRecipes. So if it sounds familiar, you might have snagged it there.
Ingredients
2 tablespoons butter
1/4 cup chopped onion
1/2 cup chopped celery, with leaves
1 Granny Smith apple – peeled, cored and chopped
3/4 cup dry bread crumbs
1/2 cup shredded Romano cheese
2 eggs
1/4 cup milk
1 teaspoon poultry seasoning
1 1/2 pounds ground turkey
Preheat oven to 375 degrees F (190 degrees C). Grease a 9-inch loaf pan.
Melt the butter in a skillet over medium heat, and cook and stir the onion, celery, and apple until the onion is translucent and the apple is softened, 5 to 8 minutes. Let the mixture cool.
In a bowl, mix the cooked apple mixture with the bread crumbs, Romano cheese, eggs, milk, and poultry seasoning until well combined, and lightly stir in the ground turkey. Do not over mix or the meatloaf will be tough.
Spoon the mixture into the prepared pan, and bake in the preheated oven until the loaf is cooked through to the center, about 45 minutes.
Okay, it needs to be said, the BEST part of this meatloaf are the crusty ends.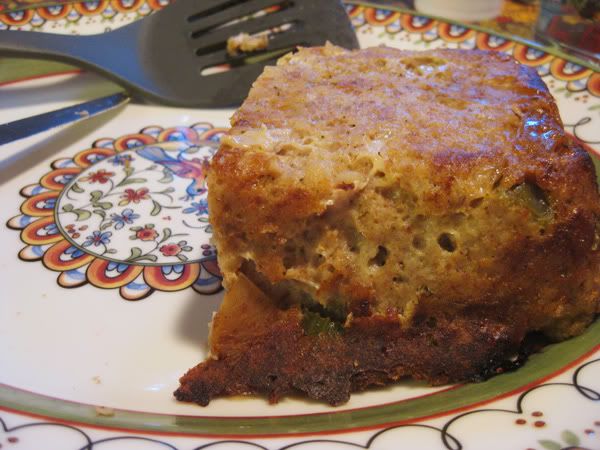 The cheese in the meatloaf makes this super yummy caramelized crust.
I always make sure that I am good wife and serve my family first… and selflessly endure those crisp edges.
Oh and this meatloaf NEEDS to be served with mashed potatoes. When I say fie on the dairy ban, I enjoy making the Barefoot Contessa's Buttermilk Mashed Potatoes. The Pioneer Woman's would be good too, but hers have even more dairy in them that Ina's do.
If you like this, plan to make it, or are here for the first time, please drop a comment and say hello.
Happy Eating!