Festive Goodness: FAIL
Okay so I will admit that there are certain baking skills that I have not yet acquired. Making pie crust from scratch, incorporating vegetables into every meal, making kick bootie sugar cookies from scratch… that sort of thing. I am HORRIBLE at anything that requires the dough be rolled out. The fact that I can make cinnamon rolls is a fluke and  I am pretty certain the liberal coating of cream cheese icing I slap on the top of those hide a number of sins that my lack of rolling prowess creates.
Despite being armed with the knowledge of my short coming, I inevitably and annually cave to societal pressure, and attempt to make sugar cookies from scratch so that I can decorate them with my mini-sous chef. In fact, emboldened by our somewhat successful making of Gingerbread cookie cut outs with assistance from the fine people at Pillsbury last weekend, I decided to decorate Sugar cookies this weekend, and invited 10 of Alton's closest friends and their mothers to come over and join us.
This is what happened when I tried to cheat the Kitchen Gods of the holiday season and used the Pillsbury Sugar cookie dough: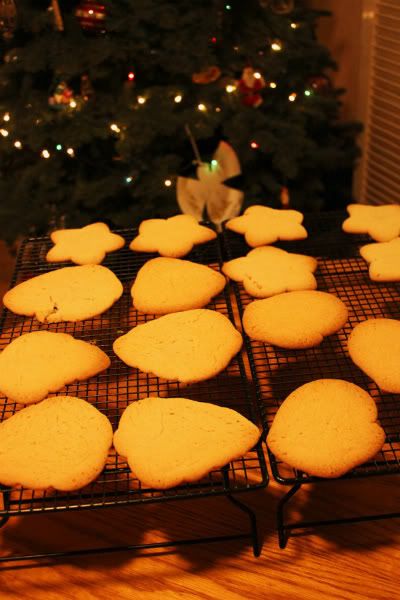 Dude. They spread like the waist line of a woman who's discovered Christmas Crack and Salted Caramel Brownies!
The mittens are almost unrecognizable and don't even get me started on the trees! They all stuck to the cookie sheets and they look nothing like the ones on the Pillsbury sugar cookie package. Luckily there are a number of boys coming over to decorate cookies in the morning, and let's be honest. The boys don't really care what the cookies look like per se; they just want a vehicle to shovel frosting and sprinkles into their mouths faster than their mamas can notice.
Anyway, I have some "Not supposed to spread and your cut outs will keep their shape" sugar cookie dough that I made from scratch now chilling in the fridge. I will report back on how it does.