Gingerbread Eggnog Trifle
This is another one of my recipes that's published on Allrecipes. It's Trav's favorite and I make it every year for Christmas.
This is a photo I took once people had already started to eat it. My bad.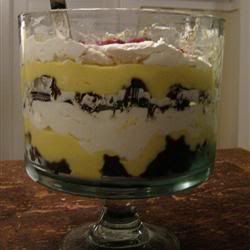 This is a pretty one from the Allrecipes site, I love how it looks!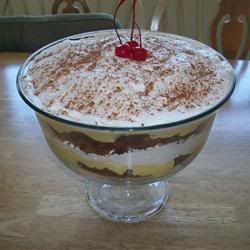 You don't have a trifle bowl? No problem, make individual trifles in assorted cocktail glasses.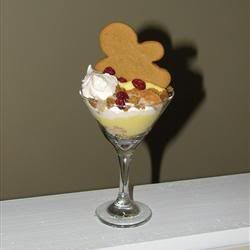 Ingredients
1 (14.5 ounce) package gingerbread cake mix
3 cups eggnog
1 (5.1 ounce) package instant vanilla pudding mix
2 cups heavy cream
1/4 cup white sugar
2 teaspoons vanilla extract
1/4 cup sweetened dried cranberries, chopped (optional)
2 tablespoons gingersnap cookie crumbs (optional)
 Directions
Prepare gingerbread cake mix and bake according to package directions (any size pan). Cool completely.
Place the pudding mix in a large bowl. Pour in the eggnog and whisk for about 2 minutes. Refrigerate pudding until the gingerbread cake is cool and you are ready to assemble the trifle.
In a large bowl, whip cream until stiff peaks are just about to form. Beat in sugar and vanilla until peaks form.
Crumble 1/2 of the gingerbread into the bottom of a trifle bowl or a large glass bowl. Spread 1/2 of the eggnog pudding over the gingerbread, then spread 1/2 of the whipped cream on top of the pudding. Repeat the layers with the remaining gingerbread, pudding, and whipped cream. Refrigerate 6 hours or overnight. Sprinkle the top with the cranberries and cookie crumbs before serving.
Footnotes
You can use already made whipped cream, but I prefer to flavor my whipped cream myself. You can substitute bourbon for the vanilla extract in the whipped cream if you like.

If you use low fat eggnog for the pudding, your pudding will be loose.

The pudding is my favorite part. I am not opposed to doubling the pudding portion.