Mini Bathroom Makeover
So hello. It's been far too long.
Alton has outgrown the primary colored fish bathroom decor that we got at Target when he has born. Plus the lotion dispenser and soap dish were long ago broken, so I decided it was time to update "the girl bathroom" in our house.
The before: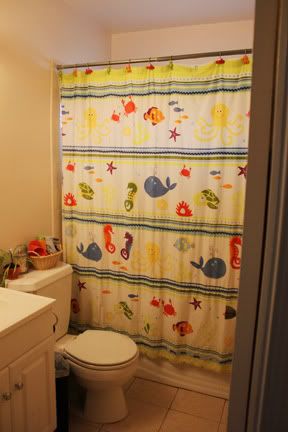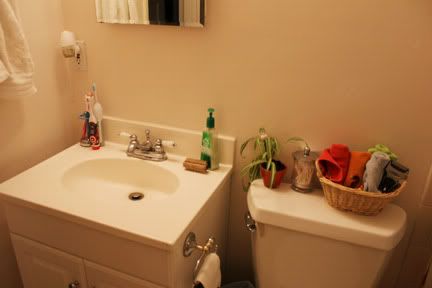 Luckily, today is my birthday and I had a gift card and some coupons so I was able to redo the whole thing for less than $35 out of pocket. Quite the feat I would say since most shower curtains alone are at least $30.00
The After: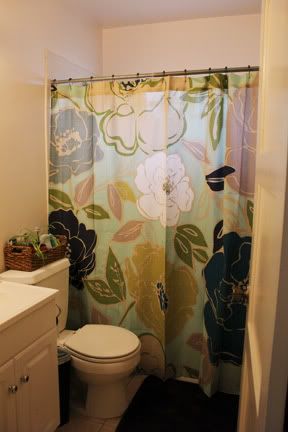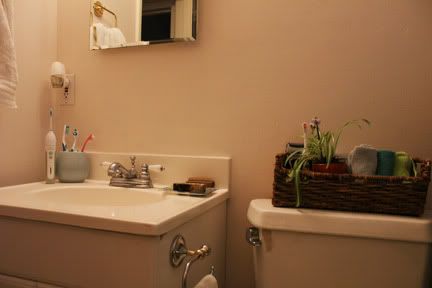 I LOVE my new shower curtain to pieces. I got it at Cost Plus. I am a member of their rewards program, so they sent me $10 free for my birthday. Plus today they sent a 10% off coupon which I used for the shower curtain and the beautimous new soap dish shown below.
I got a new shower curtain liner at Bed, Bath and Beyond, (love their coupons!!!) and the new toothbrush holder. I also got the new shower curtain rings there, and the new bath mat at Costco. They have the same bath mat at Bed, Bath, and Beyond, but it's MUCH cheaper at Costco. (I don't count this in my total since DH bought the floor mat on Saturday…)
The basket I already had, I just re-purposed it for bathroom use. I can not remember if I bought it at Bed Bath and Beyond or Target. It's got nifty little dividers to make organizing in a small space possible. It holds our wash cloths, Q-tips, a plant (the one plant I haven't killed since Alton's been born), and Trav's razor with room to spare. It will hold the cotton jar too once I remember to get more at Target.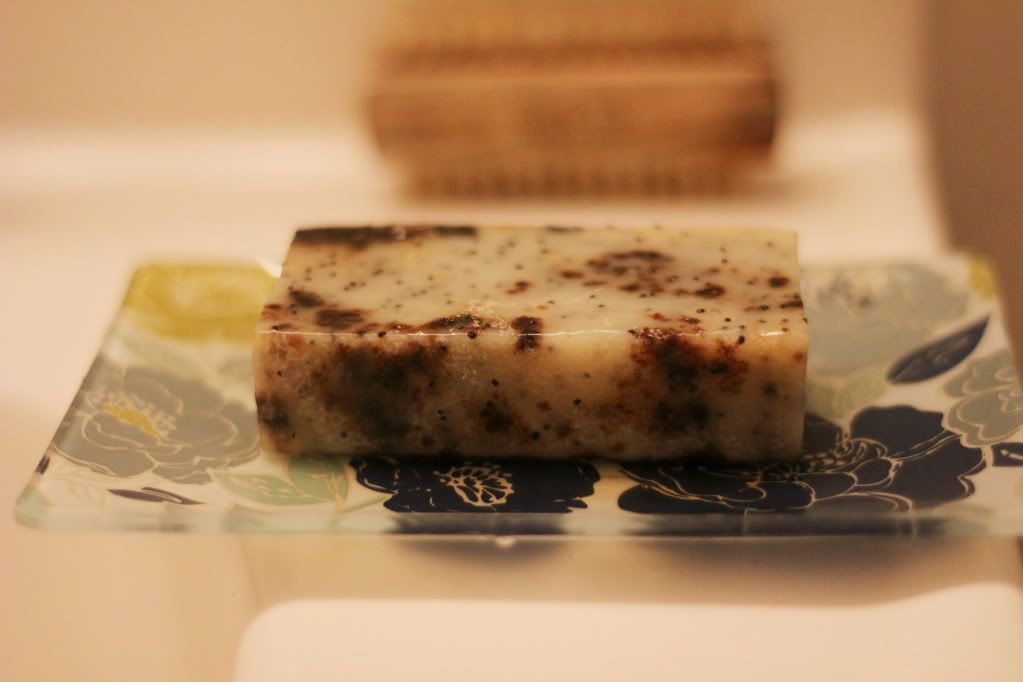 My favorite part is the new soap dish and soap. My friend Leigh and her husband Paul make these wonderful, all natural soaps by hand. This one is her Coffee and Cinnamon soap and it has little grounds of real coffee in it so it exfoliates nicely. Plus it makes the bathroom smell really good, which is something we should all be striving for anyway right?
Travis and Alton like the new bathroom. Travis says that it looks like boys don't even live here… I think that's a compliment?
Sometime I would like to paint this bathroom a light  turquoise and add some wall art, but for now it's nice  the way it is.
Have a happy day!