Lemon Halibut and "Creamy" Brown Rice with Triple Berry Salad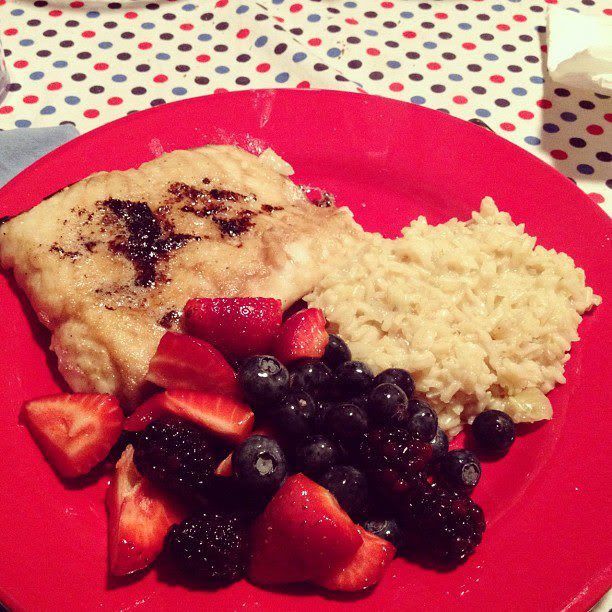 Pin It

I love halibut. It is my favorite of all the fish and this week Sprouts has wild caught fresh (not frozen!) halibut on sale. So I made it for dinner tonight. Alton finished his "halibut chicken" at top speed, and Trav and I savored our portions. They were like buttah… Somehow today during my travels on the wilds of the internets, I found a recipe for "Creamy" Brown Rice, and I made that too. I forgot we were out of lettuce, so instead of making the Pistachio, Bacon and Strawberry Salad, I'd planned on making, I made a fresh berry salad instead. (Alton also devoured that like he'd not been fed all day.)
The Lemon Halibut was prepared like so:
1 1/4 pound of halibut filets
1 cup of flour for dredging
1 tsp sea salt
1/2 tsp black pepper
2 T butter
1 T grapeseed oil
Juice of 1 lemon
Dry the fish with a paper towel and then dredge in the flour/salt/pepper mixture. Set aside.
Melt the butter in a large skillet and drizzle with the oil. (This keeps the butter from burning while you cook the fish.)
When the pan is good and hot (medium heat) place the filets in the pan with the thicker parts in the center.
Once they are cooked about half way through, (depending on how big your fish is, about 5 minutes or so for mine) gently flip the halibut, and then squeeze the lemon over the fish and in the pan drippings.
Once the filets are done, (don't be afraid to remove the smaller, thinner pieces sooner, you don't want them to dry out!) transfer them to their serving plate and then drizzle the fish with the "sauce" that's left in the pan.
The Triple Berry Salad
1 pint of strawberries quartered
1 pint of blackberries
1 pint of blueberries
drizzle of honey
juice of 1 orange
Wash and spin your berries dry. Then drizzle on top a bit of honey. (I do one big spiral drizzle and that is usually the perfect amount to sweeten the berries.) Halve your orange and squeeze the juice over the berries. Stir the berries gently to distribute the "sauce" and then enjoy!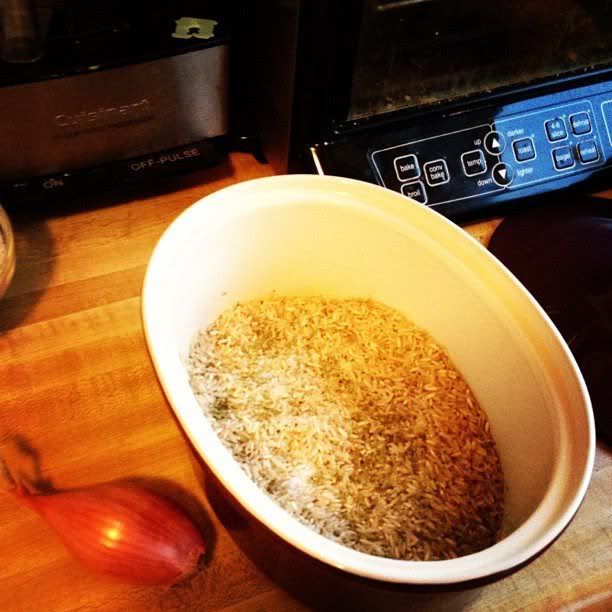 I know that there are purists who believe you should NEVER serve cheese with fish. While I normally agree with this rule, I am going to go on record saying that this rice was AWESOME and it wasn't overly cheesey, so it went well with the fish tonight.  Travis was seriously eating it straight out of the casserole dish and I finished my whole portion, even though it was brown rice. Make it soon without delay.
Have a good night!