I'll Dance At Your Wedding
Travis's uncle has always been a part of our relationship. We had been dating for all of two weeks when I met him. Larry is a true southern gentleman with large amount of charm and just enough schmarminess thrown in there so that you don't take him too seriously. He is brilliant; holding down a successful law career for decades, with a true appreciation for the masters. Busts of Beethoven, Shakespeare and Mozart graced their living room the way other families put out family vacation photos. Loyal to almost a fault and proud past the point of reason at times, but he is Larry and if he loved you, while he wasn't quick to show it, some how you knew.
Travis grew up with his uncle living down the street from the early 80s. This is when Laurel got the confirmed bachelor to give marriage another try. "The Other Grahams", we at every family event, and it wasn't a party until Lowell and Larry were fighting over who got to wash the dishes. (Yes ladies, those men do exist.)
When Travis and I started dating, I am pretty certain that it was a shock to his parents. I wasn't thin, blonde or from Bel Air, Beverly Hills, or The Hill. But Larry was always gracious with me and immediately accepted me as a member of the family. He and Laurel somehow sensed what Travis's parents did not, that Travis and I were good for each other and Larry would often quip when I did something that amazed or befuddled him, (I possess a mechanical inclination that has escaped the previous two generations of Grahams)
"I'll dance at your wedding."
I took this as his stamp of approval, that he would welcome me into the crazy Graham clan.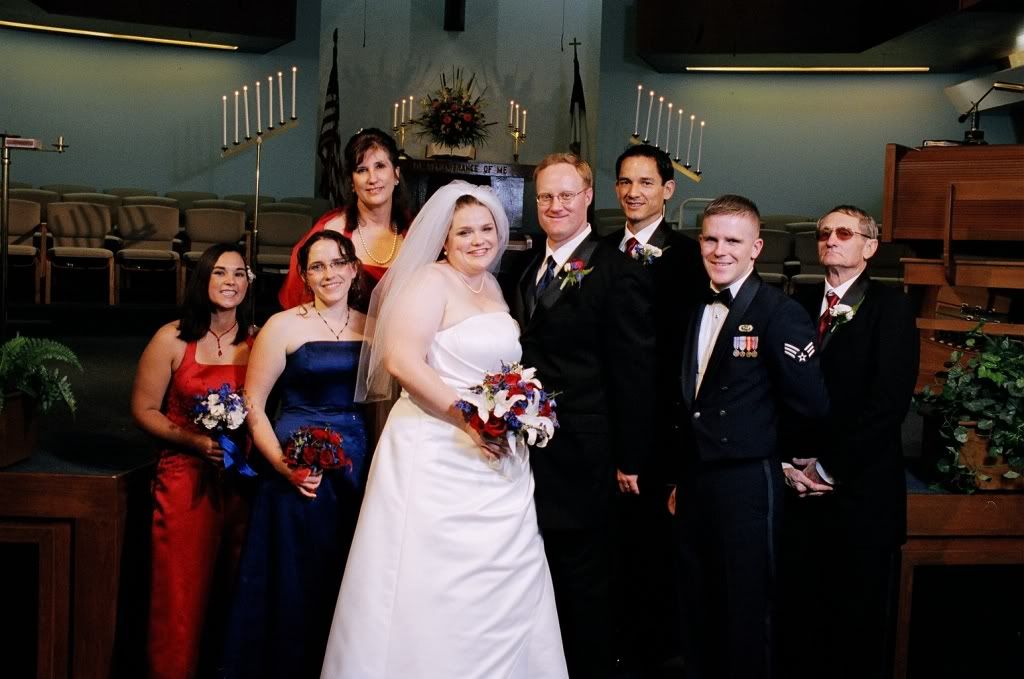 Well we didn't have dancing at our reception. It rained and we were all crammed into Trav's parents house. But Larry and Laurel were in our wedding. So in a way he was right.
When Travis's dad died, Larry became like a second father to Trav. Every North Carolina basketball game was an excuse for a family get together, and he was a fixture in our living room for every major sporting event. When Travis's dad was alive we enjoyed doing those things with him, and I know that Travis has cherished doing the same thing with Larry.
"Larry's going to outlive us all." was a familiar family saying. Lowell ate bran and gave up fat and desserts and he died early. "Larry drank his way through the 80′s, thinks that Bologna is a food group and wouldn't recognize a glass of water if you diagrammed it for him, but darn it, he is going to live to be 100!"
Have I mentioned that Larry, like all Graham males is stubborn? He drinks Diet Coke like he should be drinking water and has used chewing tobacco for as long as I have known him. We have been trying to get him off of "the chaw" since their oldest learned about second hand smoke, but Larry is stubborn. He wouldn't give it up.
He was diagnosed with Throat Cancer recently, and even more recently he came down with double pneumonia. I think he is still not speaking to George (his oldest son) for having to call 911. Larry doesn't like hospitals. This morning he is going into surgery. Which wouldn't be a big deal except all of a sudden Larry has gotten frail. To the point where he reminds me of my grandfather… and what he was like before he died. I makes me wonder, have we done enough to make sure that he knows God. So that at the end of the day when that day comes that Larry will go home to be with Jesus like his younger brother did six summers ago?
Like many other people I know I tend to keep my faith to myself somewhat. I have a comfortable Christian bubble that I live in. I attend a church sponsored Moms group, we attend church every Saturday night, and most of my friends are ladies that I know from these venues. So it's easy to live my faith with them, and talk about God and Jesus.  But if I am honest with myself, I haven't done enough. I haven't talked to Larry about his salvation ever. I haven't asked him what his thoughts are about God and Jesus because it was too easy to pretend that we had forever… Larry is going to live to be 100 remember? Plus I was afraid he would ask me a question that I didn't know the answer to or goodness forbid pull out his lawyering skills and argue with me and I didn't want to be uncomfortable.
So here we are. I just pray that we have Larry for longer than just tomorrow and that somehow God gives me or Travis the words to speak to Larry's heart that he might know Jesus, and that Jesus died so that he can be with God again. If you are praying sort please pray for Larry on Friday.